The home bar has had a potted history; towards the end of prohibition in America tea trolleys started to be used for cocktail parties. By the 1950's and 60's the trend had really caught on and home bars adorned many living rooms on both sides of the Atlantic. But by the 1980's the shine had warn off and owning a cocktail bar was seen as more Del-boy than Don Draper.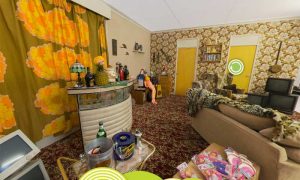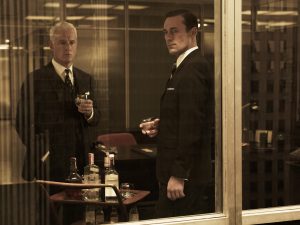 But fast forward to 2017 and as with most trends the home bar is having a revival and is quickly becoming a must-have for the stylish contemporary home.
From creating a small display on a tray to a fully plumbed wet bar complete with icemaker and dishwasher there are many ways you can embrace your inner Gatsby and enjoy your very own home bar.
Drinks Trays
British style writer and interior designer Rita Konig designed the beautiful Belle Rives drinks tray for the Lacquer Company; available in 2 sizes and various colours. It has practical high sides and will make the perfect home for your cocktail glasses, shakers and bottles. Large £375.00 Small £175.00
If you want to brighten up a small unused corner of a room the perfect choice would be a butler's tray. The same principle as the tray above, but on its own legs to make it a stand alone piece.
Try the Carsons Butler's tray (see image below). Featuring a smart limed oak handled tray upon a polished stainless steel x frame. £665.00 from OKA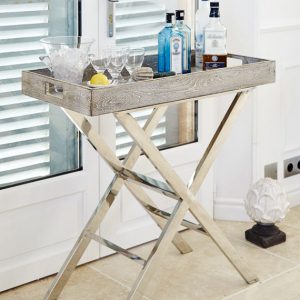 Drinks Trolleys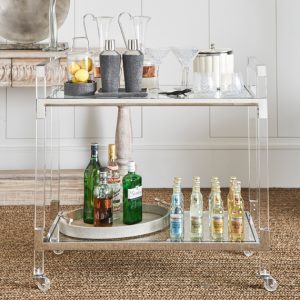 A butler's tray gives you freedom to move your party from room to room, but if you really want to be able to take the party from the sitting room to the garden with minimal fuss a drinks trolley may be the perfect solution.
The Lenox drinks trolley from OKA at £985.00 (image above) is crafted from acrylic and glass with a stainless steel frame.  It is a stylish piece of contemporary furniture that will sit perfectly in either a dining or sitting room.
If you would like a more traditional trolley there are some wonderful options available: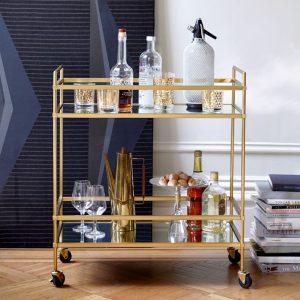 The West Elm Terrace Bar Cart available from John Lewis £399.00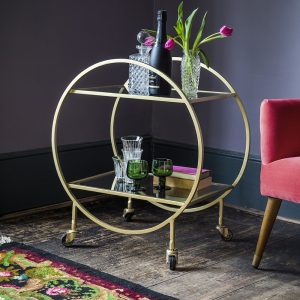 The 1930's inspired Halo drinks trolley from www.atkinsandthyme.co.uk £269.00
Freestanding Cocktail Cabinet
If you would like a more permanent bar the easiest solution is a freestanding cabinet.  There are some stunning examples on the market today. From sleek high gloss lacquer to beautifully inlaid wood there is a style to suit every home.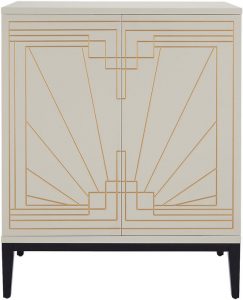 If you dream of drinking martinis with Gatsby the Marks and Spencer Carraway drinks cabinet is for you. Bang on trend it is inspired by Art Deco styling. The cabinet has fully fold out doors with storage for bottles and glasses.  The doors are etched with an Art Deco pattern. The cabinet is spray lacquered in a light grey colour with dark stained timber legs £479.00 (was £599.00)
The Sofa and Chair Company have designed a stunning free standing cabinet as part of the Ferrero Collection;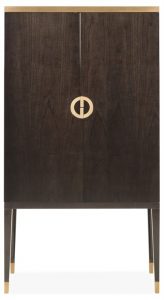 This elegant cabinet is completed with a maple or American walnut high gloss finish and either chrome or brass detailing. £3,250.00
The Sugarcube cabinet by Knowles and Christou is a large cushion fronted glass cabinet with oak handles and plinth. With a starting price of £5,998.00 optional added extras can be included such as mirror back, glass rack, pull out drawer and internal lighting.
Built in Wet Bar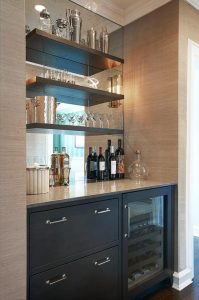 A more permanent solution is to build a wet bar in your home. Located in the sitting room, library or main living space this can add a whole new dimension to entertaining. A wet bar includes a sink and often a slim line dishwasher and drinks fridge.
A wet bar gives the opportunity to use dramatic lighting and statement wall coverings that otherwise might be too overpowering in larger spaces.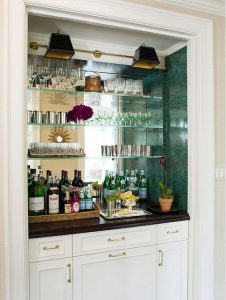 Depending on the space available another option is to hide the bar behind a door;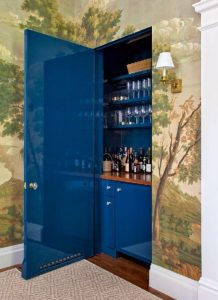 If you are inspired to build a wet bar or just to dust down the old cocktail shaker why not get in the mood and make one of these FRI favourites tonight?
Dark & Stormy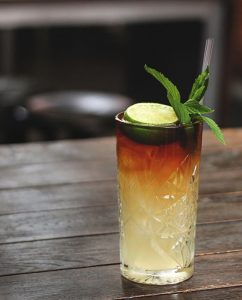 Ingredients:
(serves 2)
Ice
Juice of 1 lime
Sliced lime
240ml ginger beer
120ml spiced rum
Mint sprig to serve
Fill two glasses with ice, add the ginger beer and lime juice each glass. Carefully and slowly pour the spiced rum on top so it stays in a separate layer. Add a slice of lime and mint sprig and serve.
Blackberry Thyme Champagne Cocktail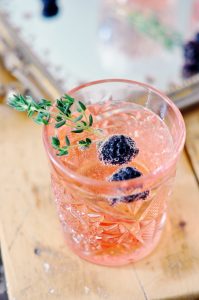 Ingredients
(serves 4)
For the blackberry syrup:
1/3 cup blackberries (plus 8 for garnish)
1/3 cup water
1/3 cup sugar
1 bottle champagne
4 sprigs of thyme
In a small saucepan bring the blackberries, water and sugar to a boil, turn down low and simmer for 10 minutes. Strain the blackberries and leave the syrup to cool. Add 2 tablespoons of blackberry syrup to each glass and top with champagne. Add a sprig of thyme and serve.
Cheers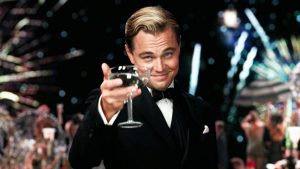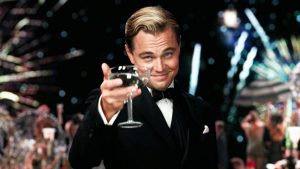 SaveSave